Personal Injury Lawyers for Victims of NJ Auto Accidents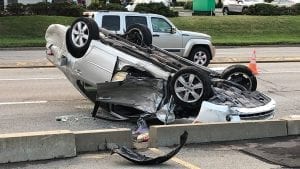 Trying to keep up with the crazy pace of this life, we find ourselves making poor decisions on the road, sometimes resulting in auto accidents. When that happens, you'll need a legal team with years of experience representing injured clients throughout New Jersey.
Auto accidents are any collision involving any kind of motor vehicle:
Car Accidents
Bike Accidents
Bus Accidents

Motorcycle Accidents
Truck Accidents
Pedestrian Accidents
This includes Commuter Accidents, which are collisions involving any type of mass transit, ride-share or commuter transportation:
Train Accidents
Taxi Accidents
Bus Accidents

Subway Accidents
Rideshare Accidents (Uber or Lyft)
Ferry Accidents (or Water Taxi)
Common Causes of Auto Accidents
Some of the most common causes of auto accidents include:
Speeding
Texting while driving
Rubbernecking
Drowsy driving
Distracted driving
Driving in dangerous weather
Sadly these choices can result in catastrophic consequences. If you or someone you care about sustains injury from an auto accident, you're going to need help. Our firm wants to stand beside you during this time.  Let us help you navigate the claims process. We're with you from start to finish and will work hard to ensure you are fairly compensate for your injuries.
Injured in an auto accident?
Confused in the aftermath?
Intimidated by insurance companies?
First of all, don't panic. You'll need a clear head for what's ahead. Get your police report, medical documents, and any other information concerning the accident, and give us a call.
Getting compensated for your auto accident.
There are a lot of factors that come into consideration when determining fair and appropriate compensation for your accident. Among them:
Medical bills, including anticipated medical costs related to the accident, including modifications to your car or home to accommodate your injuries and/or disabilities.
Permanent disability (lost income, current and potential).
Property loss or damage to your vehicle, and any other items destroyed in your accident.
Quality of life impairment (your ability to enjoy and engage in daily and recreational activities).
Emotional trauma and distress.
Punitive damages (as punishment to the other driver, for actions that resulted in your injuries).
Free consultations for victims of auto accidents.
You've already been through enough. Let us offer you a free case review. We'll examine your claim, discuss your injuries, and make a plan to get you compensated for your injuries.
An auto accident shouldn't stop you from living. Reclaim your life. We're here to help you do it.
​Reach out today for a free consultation.