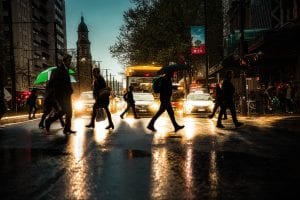 Considering how many of us live in or near a major city, the risk of being involved in a pedestrian accident during our daily trek to school, work, or to other activities increases significantly. While we may take steps to be safe on our walks to a specific location, not everyone around us, including the drivers, uses the same care and sometimes accidents can happen. (Here is a helpful guide to help you use more caution when traveling as a pedestrian.) As a pedestrian, taking certain precautions not only reduces the likelihood of accidents but increases the odds of a successful claim should an accident occur.
When drivers become distracted for even a second, an accident can occur. Drivers have a duty to observe traffic laws and to drive safely, responsibly and cautiously, a duty that many people—too many and too frequently—breach. One of the most common causes of motor vehicle accidents is distracted driving and can result in traumatic injuries for pedestrians. When driving around pedestrians, one must use extra care and attention to avoid any potential accidents. If a driver of a vehicle acts negligently and causes an accident involving a pedestrian, the costs can be dire.
Injuries in pedestrian accidents are often severe. While the human body possesses marvelous strength and resilience, it is no match for a two-ton piece of steel traveling at a high speed. If you have been involved in a pedestrian accident, chances are you have injuries that require ongoing medical treatment, which may have forced you to miss work and interfere with your day-to-day life. Your ability to care for and provide for your family may be compromised.
If you are ever involved in an accident, make sure you do your best to:
Call 911, and/or seek medical attention.
Take photos, if you're able. – If not, ask witnesses to take photos on your behalf.
Do your best to get the driver's information.
File a police report.
Document the accident and your injuries.
Speak with an attorney.
For a more complete list of what to do when you are involved in a pedestrian accident, click here.
It is very possible that having been injured in a pedestrian accident, you are suffering the consequences of another person's negligence. You need and deserve fair compensation for your losses.
Joseph M. Ghabour & Associates, LLC will help guide you in your recovery from your  accident as well as aide in the defense of your claim. Joseph M. Ghabour, Esq. has over 15 years' experience seeking compensation for those who were injured in a personal injury accident caused by the negligence of others. He prides himself in the rigorous defense of those who have been wronged by another party and will do what is necessary to assist in the defense of his clients
If you or someone you know has been involved in a pedestrian accident, contact us today to discuss your potential case.