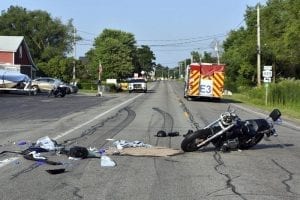 Riding a motorcycle can offer many benefits, motorcycles…
 are far more Eco-friendly then cars.
 cut down on traffic.
 are less expensive to own and maintain.
 are easier to find parking for and take up less space.
 give their riders a sense of freedom, excitement, and focused relaxation, all of which amount to a meaningful psychological benefit.
While there are numerous advantages to riding a motorcycle, you also assume a certain amount of risk entering the road with other motor vehicles. However, this doesn't imply that motorcycles can't be ridden safely. Click here for a list of safety tips for motorcycles. 
Many people tend to believe the idea that motorcycling is irresponsible and reckless. They tend to believe that the injured motorcyclist should bear some of the responsibility for the accident for simply having decided to ride a motorcycle in the first place, regardless of what caused the particular accident.
The truth is that many collisions between cars and motorcycles are the result of the driver's negligence, not the motorcyclists. Drivers often fail to even see or properly gauge the speed of, nearby motorcycles. These two specific situations have been the most common causes of an accident involving a motorcyclist.
When drivers fail to notice or properly share the road with motorcyclists, accidents happen. Due to the nature of these accidents, the motorcyclist typically suffers injuries more severe and permanent than those of a victim would have suffered in a car crash. Injuries to a motorcyclist are often serious and require significant medical treatment which can often be costly and time-consuming. Those who have been injured in a motorcyclist accident should contact a qualified personal injury attorney who specializes in motorcycle accidents.
At Joseph M. Ghabour & Associates LLC, we have experience with getting injured motorcyclists the compensation they deserve. We can help you recover compensation for the cost of medical bills, missed work, lost earning potential and the pain and suffering endured as a result of the accident. Contact us today to discuss your case.