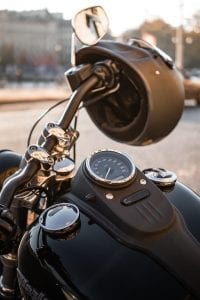 Riding motorcycles poses greater risks of injury than driving cars. Most accidents are caused by a small group of contributing factors that can be avoided if the motorcyclist takes simple steps to ensure their safety. Here are basic recommendations and general principles for motorcycle safety. Following these recommendations can help you avoid future accidents. They can also help maximize the likelihood that, should an accident occur, you and your attorney would be able to demonstrate the driver's responsibility for the collision and secure fair compensation for your losses. Showing that you were riding safely and responsibly at the time of the accident goes a long way towards a successful claim.
Give Yourself Time to Respond – When riding a motorcycle give yourself enough time to respond to other vehicles or possible road hazards. Driving too fast or recklessly can cause an accident. Make sure you have plenty of distance between you and other cars, enough time to brake and are traveling at the speed limit for the area. 
Respect Your Limits- It is important to recognize your limits in relation to your skills and abilities. Turning, or braking can be tricky at high speeds and if you are not aware of your own abilities it can be catastrophic. Riding within your limits can be a difficult thing to do. You may feel pressure from the cars around you to drive faster or more aggressively, but don't let them push your limits. It's important to keep your focus on the road and not to feel intimidated by other drivers.
Be in the Right Mindset – Riding a motorcycle requires every bit of your attention. You need to be aware of the road, the motorcycle, as well as aware of your own senses. You have to be cautious of any distractions and keep yourself focused and always in control.
Do Your Body Good – Make sure when operating any vehicle your body meets all of its needs. Drink plenty of water and eat properly. Make sure you have had enough sleep. Taking care of your body will eliminate any chances of impairment of your body that can be caused if it is depleted of its necessary resources.
Consider Yourself Invisible – It is important to increase your visibility to other drivers. By wear brightly-colored gear, and using a headlamp during the day, you can decrease your risk of an accident. Due to the size of motorcycles, drivers either don't see the motorcycles approaching or, it appears that the biker is further away than is actually the case.
Build Your Skills- Motorcycles require far greater skill to operate than your average car. Taking a course in rider education through the Motorcycle Safety Foundation is one of the best ways to build your skills and gain experience in a safe, controlled environment, with the guidance of a qualified instructor. Taking a course has other advantages as well. Taking a course in motorcycle safety can make your insurance rates go down. If you are injured in an accident, having taken a course in safety can help your case because it shows that you are a conscientious rider.